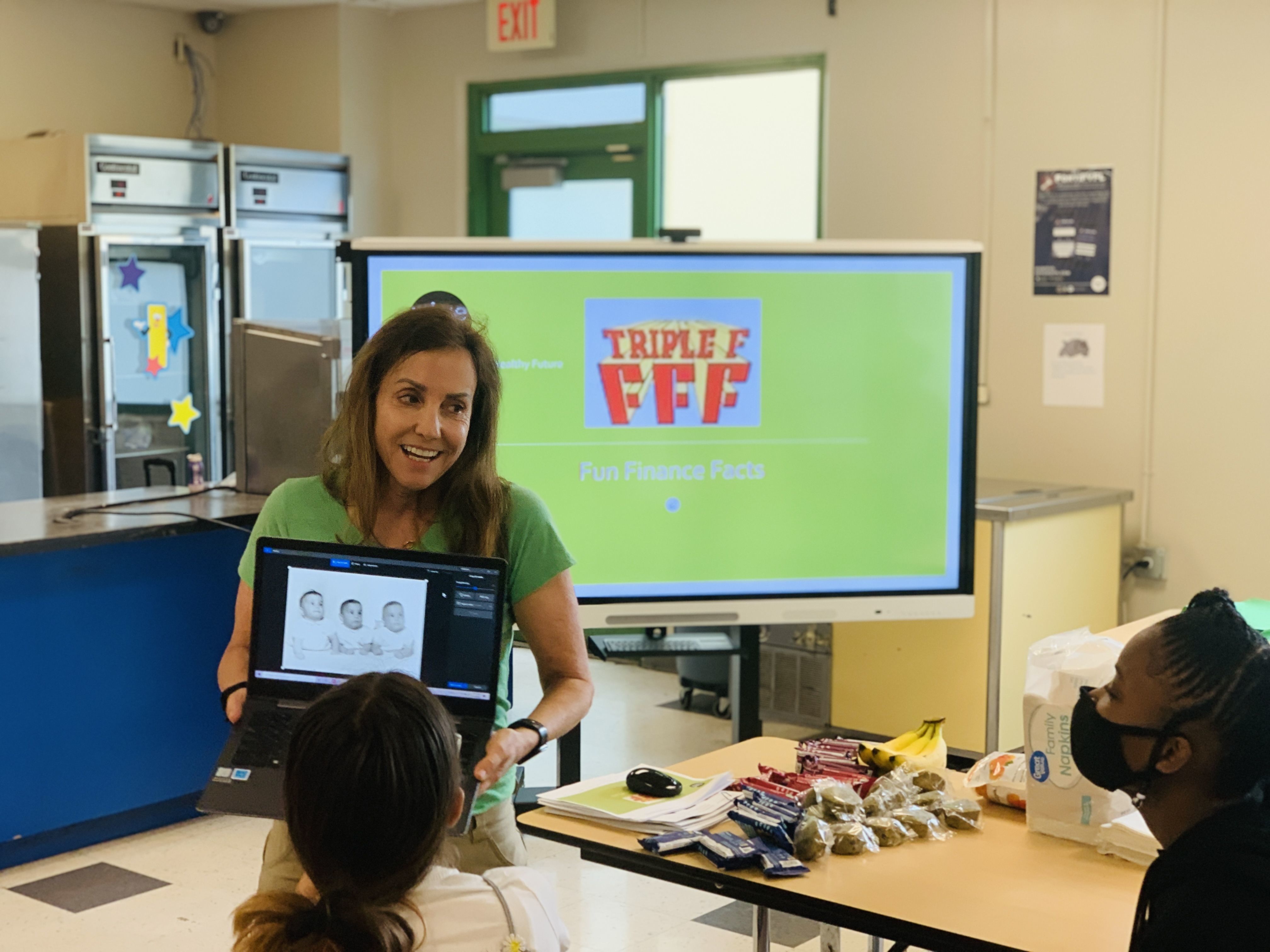 Big thanks to WiseTribe Treasurer and Board of Director, Bianca Pucci, our campers learned the basics of finance and money management in an enjoyable way! And Bianca couldn't have felt more aligned in her purpose as a result.  
As a retired CPA pursuing her doctorate on the subject of financial literacy, Bianca spoke up at a Board meeting stating financial wisdom is central to children fortifying healthy futures and that we should include this in our Camp for a Healthy Future.
Bianca agreed not only to create a financial literacy curriculum but also to teach it to our campers this summer! This was a great opportunity to employ Bianca's personal passion to give back, particularly when it comes to children, and test out her next stepping stone in life: teaching, at the college level. 
Each week our campers were surprised with Bianca's financial literacy curriculum which was highly interactive and entertaining. With their hands high in the air eager to answer her thought-provoking questions, she kept the campers on the edge of their seats. 
She made learning about finance and money management fun, engaging and relevant. From distinguishing wants versus needs, tips for saving, building budgets, calculating recipe costs, pros and cons of cash apps to checking, savings, investments, credit building, interest rates, and compound interest, she provided a comprehensive overview for building financial health.
From this experience, Bianca realized just how much she loves to teach - AND that perhaps her true passion might be teaching teens and young adults versus college students. As Bianca will tell you, she has a soft spot for young adults and is particularly energized by the level of impact she could make by building financial literacy in youth.                                                                      
Learning and giving back are in Bianca's DNA. When she isn't deep into her doctoral studies, Bianca is focused on life learning, whether practicing her piano or her Italian skills. She believes the first third of our lives should be spent learning, the second third focused on reaping the benefits of that learning, and the last third on giving back both financially and passing on a lifetime of wisdom. 
We asked Bianca what was her favorite memory, which was tough because she had so many special memories from the camp. Watching the kids get excited during the group exercises, especially the ones that involved the shopping cart and the compound vs simple interest were memorable for her. 
Bianca bringing her two triplet sisters to the last class was certainly memorable for the campers, as they had never seen live triplets before! Using photos of her and her sisters over the years, Bianca created a guessing game and had the camper guess who was who for prize money. They absolutely LOVED this game, which was quite challenging by the way!  
Bianca shared that when students see their teachers as human and enthusiastic about the subject they are teaching, they become more engaged in what they are learning. After witnessing the exchange of wisdom and energy between Bianca and our campers this summer, we couldn't agree more!
We asked Bianca about how is being a Board member for WiseTribe was different from previous board positions she's held. She shared this with us:  
"At WiseTribe, my role as a Board member is different because I get involved in not just finance with my treasure responsibilities but in other roles such as strategic planning and designing our summer camp initiative. I know I am making a difference because I can see it and I experience it directly. This is very rewarding to me. Additionally, WiseTribe's mission in helping all those, young and old, work together and become more wise about our planet and our well-being is vital to our future."
We deeply appreciate all the time, energy, and passion Bianca poured into creating this awesome financial literacy curriculum for our camp. We are excited to see her bring financial literacy to more young people. That she derives such meaning and satisfaction from being a WiseTribe Board of Directors makes us feel, as an organization, that we are in alignment. 

WiseTribe is always interested in speaking with hands-on, change-making, conscious leaders who have an interest in a voluntary leadership role to grow our mission in alignment with your personal values. Please send an email to together@wisetribe.us with "voluntary leadership" in the subject.