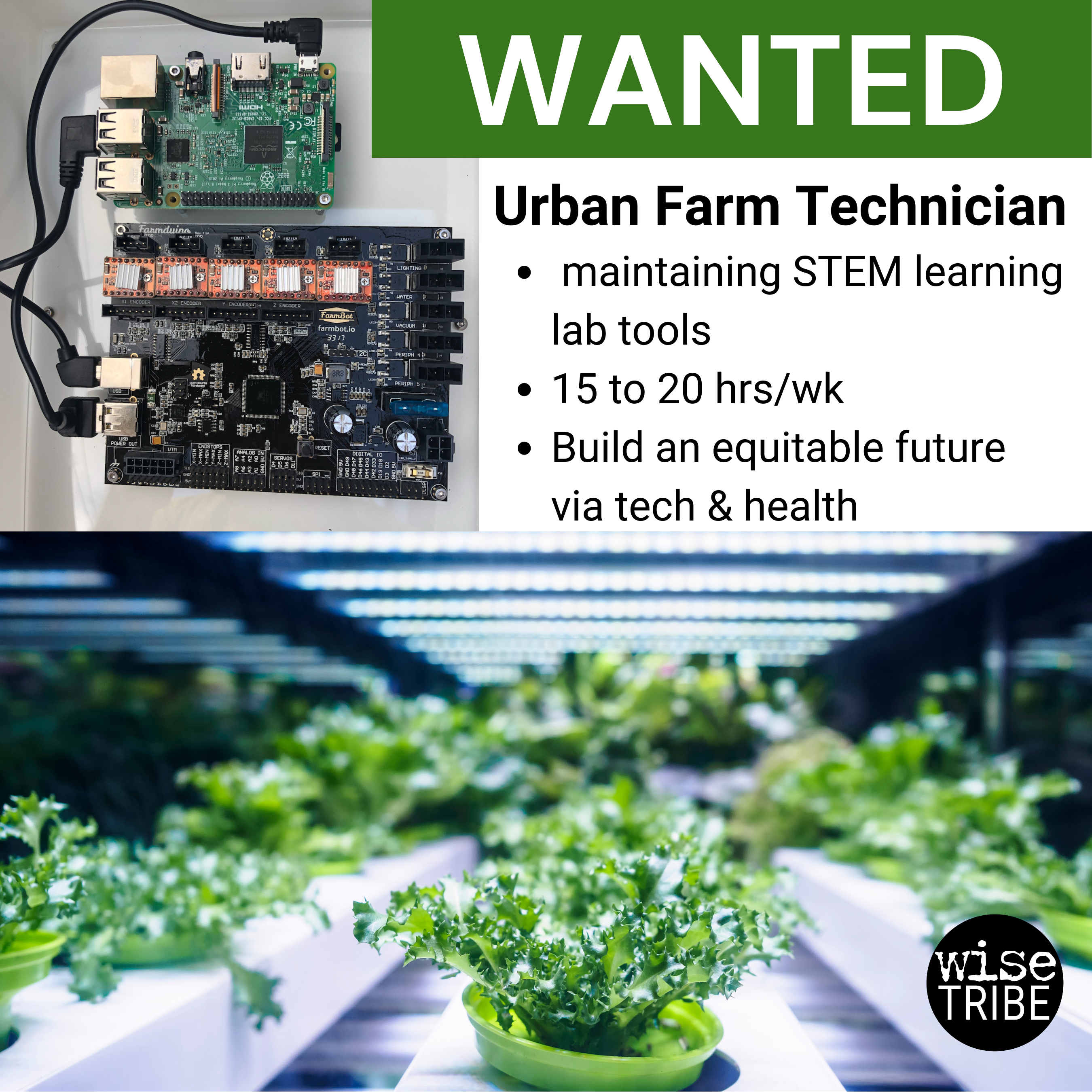 Bring STEM Education to Life for Youth via Outdoor Learning Lab
Be part of a team of educators and engineering volunteers developing a STEM focused Outdoor Learning Lab at STPA in Boynton Beach, FL for 544+ middle school students as part of a WiseTribe project. You will bring STEM education to life for middle school students from low-income communities to increase knowledge, skills and technological know-how to build an equitable future through hands-on, project-based learning. 
Urban Farm Technician/Field Ops Supervisor to work approximately 15 to 20 hours weekly maintaining the operations of STEM learning lab tools at a rate of $25 per hour. Tools consist of a FarmBot (an open-source precision agriculture CNC farming robot), hydroponics and aquaponic solutions which are used to engage children in math, science and critical thinking via hands-on learning projects. 
ESSENTIAL DUTIES AND RESPONSIBILITIES
Set-up, installation, ongoing maintenance and troubleshooting of STEM learning lab tools: FarmBot, HydroBot, hydroponic, and aquaponic systems.
Implement sensors to monitor environmental conditions for sustainable food growth,  both indoor and outdoor.
Generates productive relationships with educators, engineering volunteers, and students and demonstrates a growth mindset and is service-oriented.
Support educators with producing lessons that increase awareness of how Artificial Intelligence, the Internet of Things and robotics are applied to industry and infrastructure. 
Train educators, students, and engineering volunteers on how to operate and maintain Ourdoor Learning Lab tools and build shared project ownership of the space by dispersing tasks. 
Report monthly on project metrics.
Assist as needed to ensure the Outdoor Learning Lab is a thriving STEM educational space.
Knowledge, Skills, Abilities, and Competencies:
Strong technical aptitude & coding skills (experience with Raspberry pi computer board, and Arduino, and IoT systems essential)
Excellent verbal and written communication skills.
Strong interpersonal skills; builds and maintains positive relationships with internal and external constituents.
Strong organizational skills.
Strong time management skills; uses time effectively; consistently meets deadlines.
Ability to continually prioritize and reassess workflow effectively.
Excellent analytical skills.
Documents regularly, thoroughly, and accurately as required for this grant.
Exercises good and consistently fair judgment, courtesy, and tact in dealing with others.
The special demands must be met by the Technician to successfully perform the essential functions of this job. While performing the duties of this job, the individual is regularly required to sit; stand; reach with hands and arms, and stoop, kneel, or crouch and occasionally lift, carry, push, pull or otherwise move objects.  Current, valid driver's license and the ability to drive are also required. 
Education and Experience:
Degrees in engineering, mechanical engineering, robotics engineering. 
Two years of previous work experience
A Green Thumb and passion for permaculture and regenerative agriculture. 
Experience with teaching, facilitation, and instruction a plus 
The above qualifications express the minimum standards of education and/or experience for this position. Other combinations of education and experience, if evaluated as equivalent, may be taken into consideration.
Please send a cover letter and your resume to Together@wisetribe.us with the subject "Urban Farming Technician" to apply.