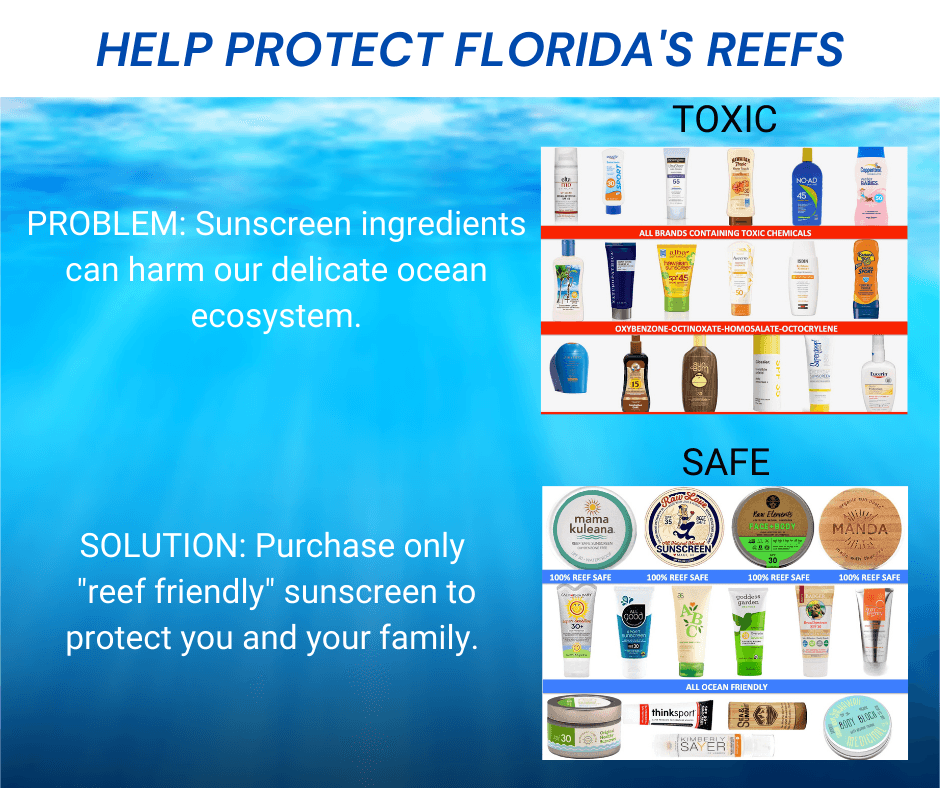 Living in South Florida, using sunscreen is a way of life for myself and my family. I have learned so much about sunscreen since moving to Florida from Buffalo, NY and even more once I had children. I learned a few years ago that sunscreen expires, no joke, I really did not know this.  You honestly do not need working sunscreen in Buffalo (just kidding everyone). The time would come in early Spring where the Florida sun would get strong, I would lather up the kids in sunblock, and they would still end up getting a little burnt.  Oops, the sunscreen expired last November. #momfail
To this day I am still learning new things about sunscreen, and I wanted to share them here with My Tribe as we think about legislative policy heading into the month of November.  A major concern, highlighted this summer by a recall of 5 major sunscreen products which are household names, is toxic ingredients.  Starting January 1, 2021 Hawaii enacted a law that bans the sale of sunscreens containing two common chemicals – oxybenzone and octinoxate, which are both harmful to coral reefs. The law has made Hawaii the first state in the United States to pass an official ban on the sale of certain sunscreens and the state has more legislation pending.
In July of 2021, Johnson and Johnson initiated a recall of all lots of five NEUTROGENA® and AVEENO® aerosol sunscreen product lines.  Initial testing identified low levels of benzene, which is a known carcinogen. A carcinogen is a substance that could potentially cause cancer depending on the level and extent of exposure.
The recalled sunscreens are:
NEUTROGENA® Beach Defense® aerosol sunscreen
NEUTROGENA® Cool Dry Sport aerosol sunscreen
NEUTROGENA® Invisible Daily™ defense aerosol sunscreen
NEUTROGENA® Ultra Sheer® aerosol sunscreen
AVEENO® Protect + Refresh aerosol sunscreen
Research done at the Paris-based Sorbonne University concluded that any sunscreen containing octocrylene has the potential to contain the toxic ingredient benzophenone as it degrades over time. Additionally, the Food and Drug Administration has been collecting information since 2019 and just issued new rules on sunscreen ingredients, formulation and labeling just this past Friday, September 24, 2021. This is the first time since 2011 that the federal government has updated its sunscreen regulations. 
Some of the notable points in the FDA's revisions include updates to the maximum sun protection factor (SPF values), active ingredients, broad spectrum requirements and product labeling.  Updated product labeling will make it easier for the buyer to identify important product information.  The FDA will also work to ensure consumers have access to sunscreen with adequate UVA protection since more studies have shown that UVA exposure can lead to cancer.
All of this knowledge has led me to take the time to review my sunscreen ingredients as well as the expiration dates.  I want to be protecting my family with the safest products possible as well as protecting Florida's fragile ecosystem.  "Spanning 358 miles from the Dry Tortugas to the St. Lucie Inlet, the Florida Reef Tract is one of the greatest natural resources in the United States.  Florida's reefs provide a habitat for marine species, protect South Florida's shorelines from tropical storms and hurricanes, and sustain Florida's fisheries, famous beaches , tourism and recreation." – Florida Department of Environmental Protection 05/16
Back in 2020, SB 176 was approved into law by the Florida Senate.  This bill prohibits Florida cities from banning any sunscreens- even those that threaten coral.  Until policy changes in favor of our ecosystem and reefs, we as the local guardians of Florida and the Florida Reef Tract need to do what we can individually and collectively to protect these precious waters for future generations.  We can all help inform others about the hazards of certain sunscreen ingredients, we can start discussions about the steps the FDA is taking and we can support policy as it comes along to protect our Florida ecosystem. Let's all take a moment this fall to look at our sunscreens and maybe do a little research into new products that are better for our families, our environment, and Our Tribe as a whole.